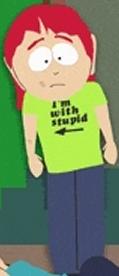 Carol McCormick is a fictinal character in Matt and Trey's animated sitcom South Park. She is the mother of Kenny McCormick.
Carol McCormick

Gender:

Female

Hair:

Red

Religon:

Roman Catholic

Job:

Housewife

Age:

25

Voiced By:

Mary Kay Bergman, Eliza Shnider, April Stuart (currently)

First Appearence:

Family:

Stuart McCormick (husband), Kevin McCormick (son), Kenny McCormick (son), Karen McCormick (daughter)
Episodes in Which She is Promanent
Edit
"Starvin Marvin"-Cheers for Kenny as he tries to win canned food.
"Chickenlover"-Is fighting with Sturat when Cartman interveins.
"Spookyfish"-Asks Stan and the other boys where Kenny is when he doesn't come back.
"Chickenpox"-Allows the other mothers to try and get there son infected with Kenny's chickenpox.
"The Red Badge of Gayness"-Gets a letter saying that Kenny has died.
"Quintuplets 2000"-Travels with Kenny to Europe.
"Cartman Joins NAMBLA"-Tries to have another baby.
"How to Eat With Your Butt"-Gets Kenny to apolagize to the Thompsons.
"Kenny Dies"-Morns the death of her son.
"A Ladder to Heaven"-Shows the boys Kenny's ashes.
"Best Friends Forever"-Fights to keep Kenny alive.
"Sexual Healing"-Finds Kenny after he dies.