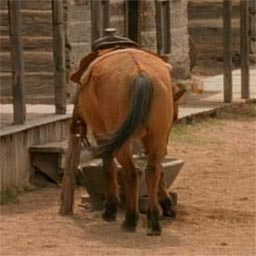 Liane is a fictinal character in the film Cannibal! the Musical. She is Packers horse. She is based on Trey Parker's ex-fiance Liane Adamo.
Concept and Creation
Edit
She is based on Trey Parker's ex-fiance Liane Adamo. Many moments in the film a parrellel to Trey Parker's real life involving her. Liane leaving Packer for Frenchy is parrallel to the real Liane cheating on Parker. The song "When I Was On Top Of You" was also written about the real Liane. At the end when Packer sais "I don't need her anymore. I think I know what I want now, someone who really cares about me" was refference to Trey forgetting about Liane and dating Toddy Walters (who played Polly Pry)
Cannibal! the Musical has been adapted to stage countless times. The role of Liane is usially played by a real woman (mostly due to the lack of female roles in the movie). However some productions just use a fake horse.
Ad blocker interference detected!
Wikia is a free-to-use site that makes money from advertising. We have a modified experience for viewers using ad blockers

Wikia is not accessible if you've made further modifications. Remove the custom ad blocker rule(s) and the page will load as expected.