Lisa is Joe Young's fiance in the film Orgazmo
Lisa

Gender:

Female

Hair:

Blonde

Played By:

Robin Lynn Raab

Religion:

Morman

Family:

Joe Young (fiance)
Personality
Edit
She is wholesome and shelterd of almost anything sexual. By the end of the movie she embraces sexuality and her morman faith. She wants to get married to Joe in the temple. She is also in the church choir along with Joe.
Role in Orgazmo
Edit
She is Joe's modavation for agreeing to act in a pornographic film because it pays so much and Lisa wants to get married in the temple so badly, but it costs alot of money. Joe lies to her and tells her he got a part in a movie version of death of a salesmen. When Lisa comes to visit Joe in California she finds out about the real film and leaves. When she relizes how importans Joe is to her she comes back but is kidnapped by Maxxx Orbison to blackmale Joe into finishing the sequil. She is saved by Joe and Ben as the real Choda Boy and Orgazmo.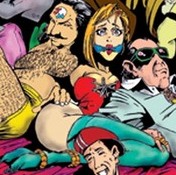 Ad blocker interference detected!
Wikia is a free-to-use site that makes money from advertising. We have a modified experience for viewers using ad blockers

Wikia is not accessible if you've made further modifications. Remove the custom ad blocker rule(s) and the page will load as expected.