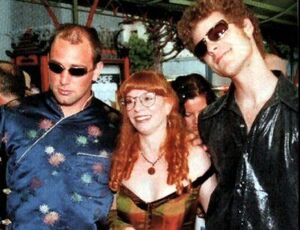 Mary-Kay Bergman was an American Voice Actress.
Early Life
Edit
Bergman was born June 5, 1961 in Los Angelas, California. She was born Jewish but converted to Roman Catholicism. Growing up Mary-Kay was a huge fan of Disney and Star Trek. She went to Disneyland regularly and once stated "My one regret is that I never got to meet Walt Disney." Also her and her mother wrote letters to NBC to try and keep Star Trek going for a third season. Mary-Kay was good friends with fellow voice actress Tera Strong, Nine months before her death she gave Tera a dog for her 26th birthday, which she named Abbey.
1990-Captian Planet and the Planeteers-Dr.Babs Blight
1991-Beauty and the Beast-Bimbette
1992-the Little Mermaide: the Series-Arista
1993-New Adventures of Captian Planet-Dr. Babs Blight
1994-Spiderman-Gwen Stacey
1996-the Hunchback of Notre Dame-Djali, Quasimodo's Mother
1997-South Park-Liane Cartman, Mayor MacDaniels, Ms. Crabtree, Carol McCormick, Nurse Gollem, Principal Victoria, Sharon Marsh, Sheila Broflovski, Shelly Marsh, Wendy Testaburger,
1998-Scooby Doo on Zombie Island-Daphne Blake
1998-the Secret Files of the Spy Dogs-Mitzy
1999-Scooby Doo and the Witches Ghost-Daphne Blake
1999-the Scooby Doo Project-Daphne Blake
1999-South Park: Bigger, Longer and Uncut-Clitoris, Liane Cartman, Carol McCormick, Sharon Marsh, Sheila Broflovski, Shelly Marsh, Wendy Testaburger
1999-Toy Story 2-Jessie (yodeling)
2000-Scooby Doo and the Alien Invaders-Daphne Blake
2001-Lady and the Tramp 2: Scamps Adventure-Si
After suffering from depression and anxiety, Bergman committed suicide in her West Los Angeles, California apartment with a firearm inflicted wound to the head at the age of 38, on November 11, 1999.Her husband, along with a friend, discovered her body and suicide note and later established the Mary Kay Bergman Memorial Fund, which contributes to the operation of the Suicide Prevention Center[5] at the Didi Hirsch Community Mental Health Center.[6]
After Bergman's death, voice actresses Eliza Schneider and Mona Marshall took over all of her voice roles on South Park. Grey DeLisle replaced Bergman as Daphne Blake in Scooby-Doo and the Cyber Chase. Good friend Tara Strong also took over her voice roles of Timmy Turner, the main character in animated television series The Fairly OddParents, and Batgirl in Batman: The Animated Series (Bergman had previously voiced the character in the movie SubZero).