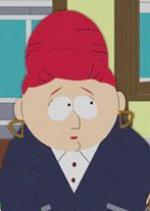 Sheila Broflovski is a fictinal character in Trey and Matt's animated sitcom South Park.
Sheila Broflovski

Gender:

Female

Hair:

Red

Voiced By:

Mary Kay Bergman, Eliza Shnider, Mona Marshall (currently)

Religion:

Jewish

Job:

Housewife, Protester

Family:

Gerald Broflovski (husband), Kyle Broflovski (son), Ike Broflovski (adoptive son), Cleo Broflovski (mother), Kyle Shwartz (nephew)

First Appearence:

Death
Personality
Edit
She is very overprotective of her family, especially her son. She means good, usially, but always takes things too far.
Concept and Creation
Edit
She is named after Matt Stone's mother, Sheila Stone. The name "Broflovski" comes from her maiden name "Brosloski".
Episodes Where She is Promanent
Edit
"Death"-Leads the protest against Terrance and Phillip.
"Mr. Hanky the Christmas Poo"-Leads the protest to make the holidays more neutral.
"Ike's Wee Wee"-Reveils to Kyle that Ike is adopted.
"Chef Aid"-Pays Chef for having sex with her.
"Spontaneouse Combustion"- Is upset that Gerald cannot get aroused.
"Asspen"-Goes to Asspen with the other parents and the boys.
"It;s Christmas Time in Canada"-She is very upset when Ike's real parents come and take him back.
"Miss Teacher Bangs a Boy"-Finds out from Kyle that Ike and his kindergarden teacher, Ms. Stephenson have been having intercorse.
"The List"-She tries to tell Kyle that he is not ugly.