Shpadoinkle Day is a song written by Trey Parker for the film Cannibal! the Musical. It is preformed by Alfred Packer, played by Trey Parker.
In the film
Edit
In the film the song is used to transiston from Packer talking to Polly Pry to the actuall story. When he starts singing it cuts to Packer on Liane riding through a meddow.
On stage the song is also used to transiton into the flashback. Most productions have a jail setup at the far left of the stage and have packer get out of the jail when he starts singing, and Liane enters.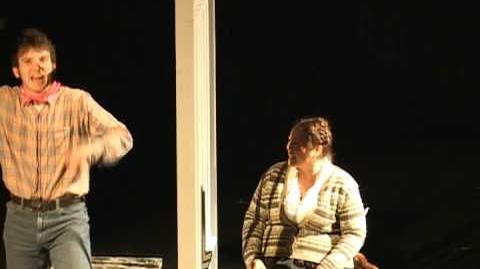 Shpadoinkle Day reprise is a song that appears later in the film. It is preformed by Bell, Noon, Swan, Packer and Humphrey.
Ad blocker interference detected!
Wikia is a free-to-use site that makes money from advertising. We have a modified experience for viewers using ad blockers

Wikia is not accessible if you've made further modifications. Remove the custom ad blocker rule(s) and the page will load as expected.