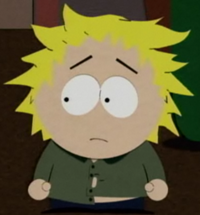 Tweek Tweak is a fictinal character on Matt and Trey's animated sitcom
South Park
Tweek Tweak

Gender:

Male

Hair:

Blonde

Age:

9

Voiced By:

Religion:

Roman Catholic

Job:

Student

Family:

Richard Tweak (father), Cindy Tweak (mother)

First Appearence:

Gnomes
Personality
Edit
Tweek is constantly paranoide because of all the coffee he drinks. He can rarly sleep and he can never stand or sit still. His parents incorrectly belive he as A.D.D.
Episodes Where He is Promanent
Edit
"Gnomes"-Is put in the boys research group. First appearence.
"Tweek vs Craig"-Is set up by the other students to fight Craig Tucker. Ends up in the hospital.
"4th Grade"-Along with the other students, tries to travel back in time to third grade.
"Proper Condom Use"-Along with the other boys is taught sex ed.
"Proffeser Chaos"-Is picked to be the boys new fourth friend.
"Simpsons Already Did It"-Along with Stan, Kyle and Cartman, put sea people in Ms. Chokesondik's coffee and accidently kill her.
"Red Hot Catholic Love"-His parents, along with the other boy's parents, are worried he may have been or may be molested by the church.
"Free Hat"-Tries to stop George Lucas and Stephen Speilberg from re-relesing "Raiders of the Lost Ark".
"Bebe's Boobs Destroy Socioty"-Starts hanging out with Bebe.
"Child Abduction is Not Funny"-His parents worry he may get kidnapped.\
"The Return of the Fellowship of the Ring of the Two Towers"-Played "Lord of the Rings" with the other boys.
"Red Man's Greed"-Tries to help the adults raise money.
"South Park is Gay"-Becomes a metrosexual.
"Free Wilziak"-Helps get Wilziak to the moon.
"Make Love, Not Warcraft"-Plays World of Warcraft.